Technology
Location:
Home
> Technology
The main equipments for slio making machine:
 Decoiling machine, bending machine, forming machine,frames&supports, electrical control.The main current equipments are mainly SM30 and SM40 type two specifications:SM30 suitable for silo diameter range 3 ~ 10 meters; SM40 suitable for silo diameter range 6 ~ 25 meters.
 Steel silo production is divided into all steel and cement based ,and all steel production base, in the basic choice near a flat surface (had better hardening ground).
 This paper mainly introduces the whole steel based steel silo production process.
ONE、Choose flat ground to silo body diameter building steel silo production platform, including building steel frame, steel column, connection forming machine, etc. A finished platform is as follows:

Among them, the decoiling machine and bending machine are located silo body diameter circumferential inside, forming machine is located in the periphery.After debugging to normal,start equipments, and coil sheet through the bending machine to fluctuation periphery for bending, through the forming machine to seam.
TWO、Close the equipments when the volume to the second lap,cut the silo top in accordance with level,weld the down ring,place rise ring in silo body within the circle, with level and tape for measurement.

(along the horizontal cutting edge on the first lap, make its on the same horizontal plane)
(use tape, level measurement to make sure rise ring is in a center of circle) 
THREE、Welding warehouse top purline between rise and dow ring.

(welding purline in accordance with layout design)
FOUR、Welding silo top cover plate
FIVE、Welding silo top guardrail and making manhole.
SIX、Painting the silo top (this step is mainly used in the black plate )
Finished silo top:
SEVEN、Reopen the decoiling machine to roll up.
  In this process coordinate with painting and welding reinforcing steel bar and the inside ladder.
EIGHT、To achieve the intended design height
To silo bottom for horizontal cutting,and lift silo body with crane to structure platform.
Manufacture process in silo internal structure:
ONE、Coil sheet into bending machine
]
Bended edge comes out from another end.
TWO、From bending machine into forming machine for seam forming
THREE、The silo inside welded reinforcing steel bar
FOUR、The silo inside ladder
Advantages of ShangHai silo
1、a galaxy of specialized experts in this field gathered in this company and we have managed several hundred Steel Storage projects.
2、We are qualified for project consultation, civil work, steel structure, electrical control and machinery manufacture. From design of steel storage to the real construction, from pre-consultation to after-service, we make customer feel the excellent quality of ShangHai. steel storages.
3、As one of the largest silo manufacturing company,production capacity reaches 200 thousand tons
4、Hot galvanized steel plates are used for silo body,and galvanized steel is also used for silo roof batten,hood,handrail,hole for temperature-measurement,manhole and ladder to ensure long service life

Research and design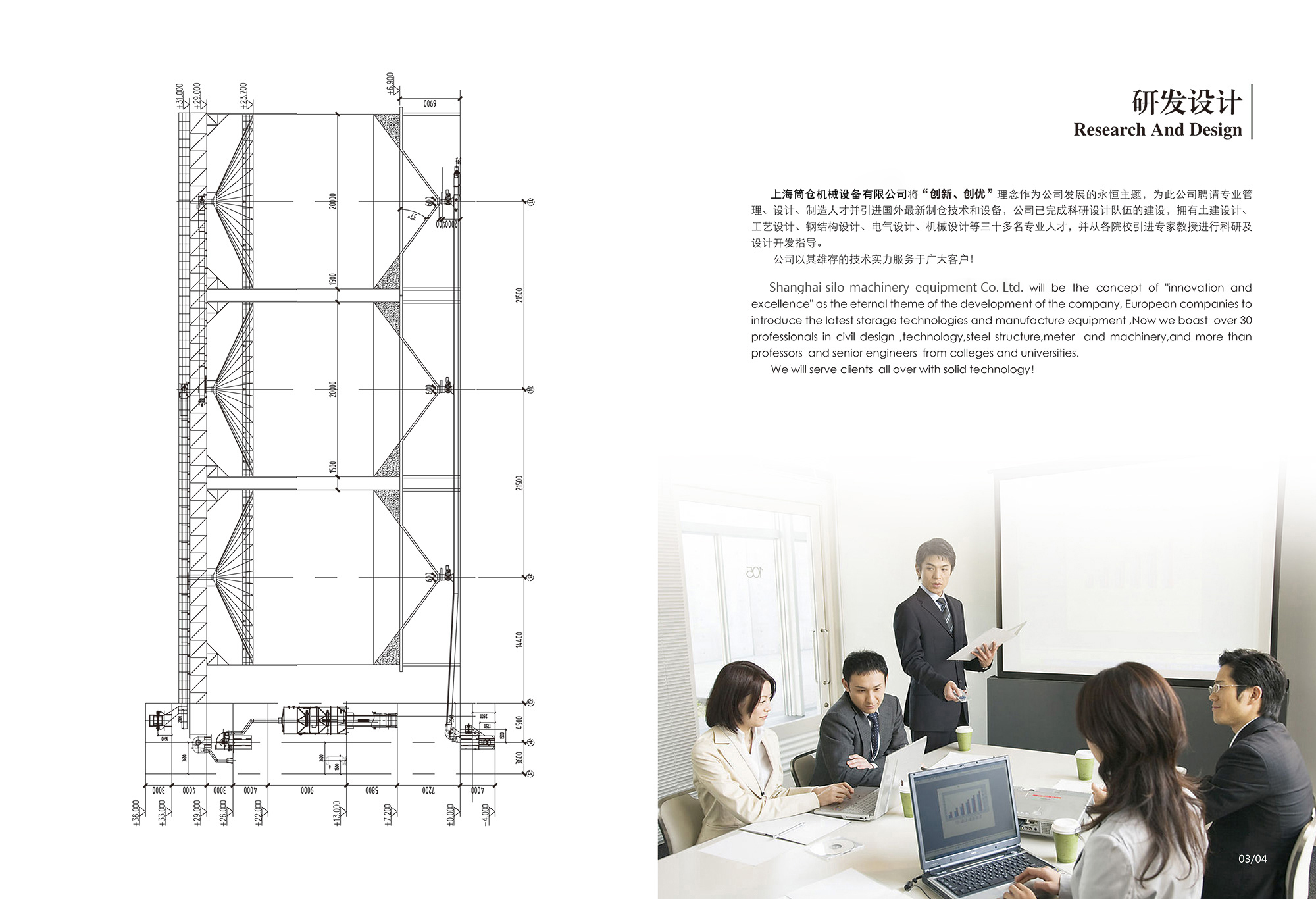 Production and processing equipment


Silo production process


Process Flow Diagram


Occlusion map


Table for specifications of silos